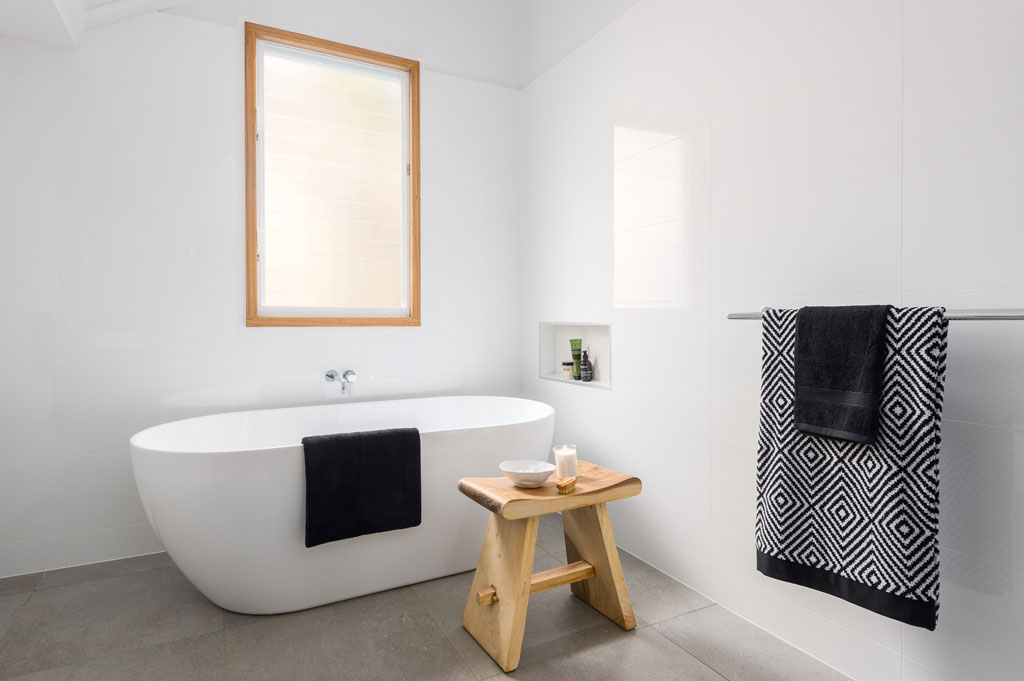 Bathroom Designs and Renovations Ideas Brisbane
Whether you're refurbishing, remodelling or making over a small, mid or large-sized bathroom, our experienced designers and trades deliver modern bathroom renovation ideas and premium workmanship.
As a professional bathroom renovation company, our primary aim is to ensure that each bathroom design and floor layout is functional, comfortable and best suited to your lifestyle. In every bathroom floor plan we draw up, we focus on the ideal placement of bathroom fixtures, including the bath, shower, vanity and toilet. We will keep you involved at each design stage to ensure that the final result exceeds all expectations.
Our Latest Projecs
Browse all the beautiful designs by Brisbane Bathroom Company. Gain some renovation ideas by following our Instagram account!
Why Choose Brisbane Bathroom Company?
Experienced and Knowledgeable Designers

Award Winning Bathroom Designs

Excellent Project Management

Reliable Supplier and Trade Resources

Fair and Transparent Bathroom Renovation Costs

Fast Project Turnaround
Benefits of a Brisbane Bathroom Company Bathroom Renovation
Increases the value of your home
Saves money by using eco-friendly materials
Improved functionality, safety and appearance
Better space utilisation
Increased relaxation and appreciation
How Much to Renovate a Bathroom?
Typically a bathroom renovation will cost more than $16,000. There are a number of factors to consider when budgeting for your bathroom renovation. You should think in terms of …
Will it be a partial or full bathroom renovation?
What is the room size?
Will it require structural or relocation work?
How much customisation is required?
Are fixtures included in the project?
The Brisbane Bathroom Company specialise in small, mid and large bathroom floor plans. Take a look at our bathroom renovation price list to see our inclusions.
Our Bathroom Renovation Process
A successful bathroom renovation requires good bathroom design. At The Brisbane Bathroom Company, our bathroom renovations are designed with safety, functionality and your unique style aesthetic in mind. We go above and beyond to ensure you have a bathroom you can relax and enjoy spending time in.
The key to our design success is the attention we pay to the details. We consider not only the technical aspects of bathroom design but also the aesthetic and functional aspects.
Note: We do not provide online services such as designing consultations or assessments (no 3D plans etc.). Everything is in person because we need to visit the site to find any foreseeable challenges and problems that might happen in the build.
Technical Aspects In Bathroom Designs
Our bathroom designs include a number of technical aspects, as well as some applicable Australian Standards, but as a general rule the design needs to make allowances for:
Enough space between each major fixture for easy movement
Ventilation and heating requirements
Adequate drainage
Appropriate general and task lighting, taking into account placement near mirrors
Safe access into and out of the bath, with hob, steps or handrails if needed
External and internal doors should be placed as not to conflict with each other
Outside access to bath or shower tap
Bathroom Designs' Aesthetic Aspects
Typically, bathrooms occupy small spaces, which can make it difficult to achieve the right look and feel of the room. With the right aesthetic aspects, we can make a room feel larger than it really is. For example, light coloured tiles, tile placement and glass can give the impression that the room is larger, modern and stylish.
We also rely on fixtures and fittings choice to create an atmosphere that blends with the rest of the house and your personal tastes. Lighting is another aesthetic feature that can add both style and functionality to a bathroom, as this will allow you to adjust the lighting for various tasks such as shaving, applying makeup or simply relaxing in the bathtub at the end of a long day!
If you feel that your washroom is an ineffective use of space, talk to our experts. We transform average bathrooms into extraordinary bathrooms!
Maximise Storage Space In Small Bathroom Designs
Any bathroom renovation project conducted by The Brisbane Bathroom Company ensures that there is ample storage space.
We utilise concealed cupboards to provide the perfect hiding spot for items you prefer to keep private. These clever cupboards can be installed into unused and wasted spaces allowing small bathrooms to stay clean and clutter-free but remain very stylish and modern. We also offer unique design plans that incorporate various aesthetic solutions for storage problems including recessed mirror cabinets or glass shelving that will take your bathroom to the next level!
Safety First In All Bathroom Designs
Of course, while functionality and aesthetics are both very important in any bathroom designs, our priority is safety. As a wet room, certain safety features can come in handy such as non-slip surfaces. During the design stage, we ensure that all power points, heated towel rails or other electronic features are kept away from water sources. For bathroom doors that incorporate a locking system, we can install an emergency lock release feature. For bathrooms that may be used by people who require special support, grab rails and steps that are safe and stylish can be easily installed.
Overall, if you engage The Brisbane Bathroom Company for your bathroom design and renovation, the end result will exceed expectations!
Talk to our bathroom designer to discuss your design ideas or view our bathroom renovation gallery to see our completed design projects.