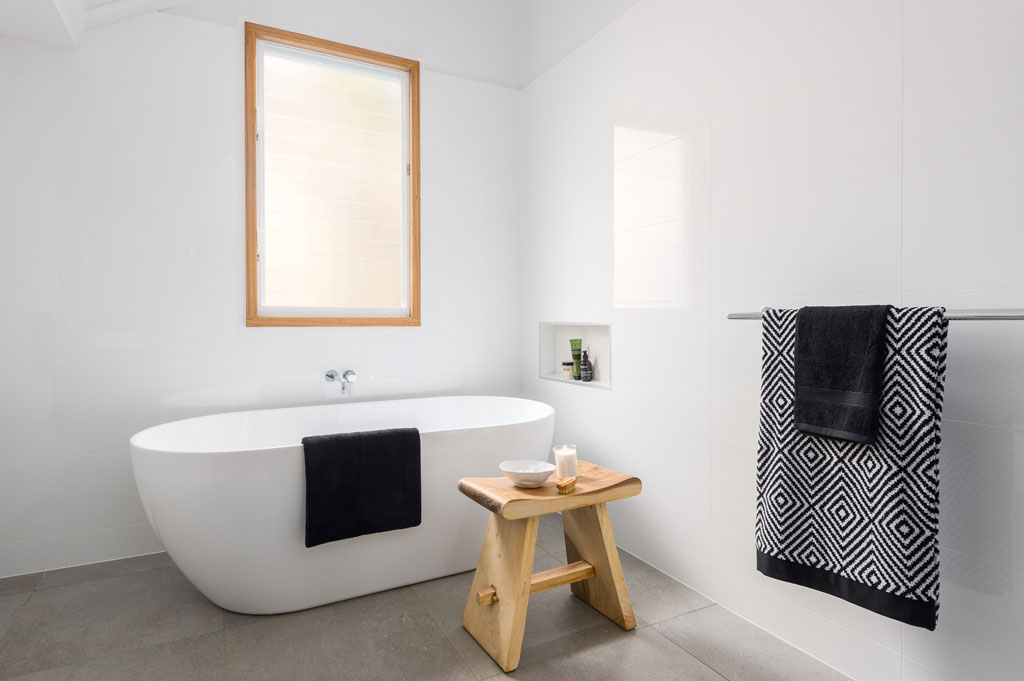 Bathroom Designs By Award Winner
Kitchen and Bathroom Designers Institute of Australia Past Winner
Good bathroom designs and an efficient layout are factors to consider in a bathroom renovation Brisbane. Both design and layout will lead to a room that functions well and looks great.
Whether your bathroom is large or small, you need to make sure that every square inch of the space is used wisely. It is essential that any bathroom designs should allow ample space to enter, complete your actions and exit comfortably. Unfortunately, all too often, we see some washrooms are tight and that make it rather hard to move around. Our Bathroom Design Brisbane Guru is an expert at creating plans that make the most of the space while also making a comfortable room to be in!
As a professional company that specialises in Brisbane Bathroom Renovations, our aim in every job is to make sure that the design and layout are effective, comfortable and best suited to your lifestyle. In every plan we draw up, we focus on the ideal placement of bathroom fixtures, including the bath, shower, vanity and toilet. We will keep you involved in our work to make sure that the final result is the most effective use of space and exceeds all expectation.
Our Bathroom Designer has many years of experience in the industry and is able to represent the customer's lifestyle, personality, and needs through the design of the bathroom, which has made our work very personal to many of our clients. We can give your shower room its own personality that makes you feel comfortable and happy. The final design is a combination of all the high-grade materials that we will use, including wide ranges of colours, textures, finishes and accessories. Your bathroom will be one of a kind!
Of course, we will also make sure that the final result fits in well with the rest of your house. A bathroom that is completely different from the rest of the house looks out of place. We are dedicated to design and build a bathroom that is both functional and beautiful so that you can truly enjoy yours!
Technical Aspects In Bathroom Designs
Bathroom designs include a number of technical aspects, as well as some applicable Australian Standards, but as a general rule the design needs to make allowances for:
Enough space between each major fixture for easy movement
Ventilation and heating requirements
Adequate drainage
Appropriate general and task lighting, taking into account placement near mirrors
Safe access into and out of bath, with hob, steps or handrails if needed
External and internal doors should be placed as not to conflict with each other
Outside access to bath or shower tap
Bathroom Designs' Aesthetic Aspects
Typically, bathrooms are usually within small spaces, which can make it difficult to accommodate all of the necessary fixtures. However, with the right design, aesthetic aspects can actually make the room look larger than it really is, adding to a comfortable and relaxing environment. For example, using light coloured tiles or placing the tiles in diagonal patterns can make the room look larger. The glass is becoming more commonly used within small bathroom designs because of it's modern and stylish appearance as well as keeping the room brighter whilst diffusing any natural sunlight.
Generally, bathrooms today are considered to be an oasis of relaxation and refuge from hectic life. Choosing the right fixture and fittings can aid in creating that atmosphere. Dimmer switches are another aesthetic feature that can add both style and functionality to a bathroom, as this will allow you to adjust the lighting for various tasks such as shaving, applying makeup or simply relaxing in the bathtub with a glass of wine at the end of a long day!
If you feel that your washroom is dull, boring and is an ineffective use of space, please feel free to contact us today! We are experts when it comes to performing Brisbane Bathroom Renovations.
Maximise Storage Space In Small Bathroom Designs
Any bathroom renovation performed by The Brisbane Bathroom Company is ensured that there is ample storage space. We have expert experience in our field, and over our many years in operation, we have learned and developed many simple tricks to maximise the available storage space.
Concealed cupboards are very popular, as not only are they out of the way, but they are the perfect hiding spot for any particular materials that you would rather keep private. These clever cupboards can be installed into small nooks and crannies that would otherwise be unused and wasted. Installing these can help to keep your small bathroom clean and clutter free, whilst also being very stylish and modern.
Storage within the vanity unit can be an effective storage space for everyday bathroom items such as soaps, hair care products, beauty products, toothpaste and more. We are able to offer unique design plans that incorporate various aesthetic solutions for storage problems that will make your bathroom easy to maintain, functional and stylish, such as recessed mirror cabinets or glass shelving which will take the bathroom to the next level!
Safety First In All Bathroom Designs
Of course, while functionality and aesthetics are both very important in any bathroom designs, our priority is safety. As a wet room, certain safety features can come in handy such as non-slip surfaces. During the design stage, we ensure that all power points, heated towel rails or other electronic features are kept away from water sources. For bathroom doors that incorporate a locking system, it is a good idea to also install an emergency lock release feature. Towel rails and toilet roll holders are placed appropriately and for bathrooms that may be used by the elderly or infirm, grab rails and steps that are safe and stylish are easy to install.
Overall, if you hire The Brisbane Bathroom Company for your bathroom design and renovation, the end results will exceed any expectation!
If you have any questions regarding bathroom designs, please visit our FAQs page or send us a message for immediate support.